About Chef
【Career】
1967年 京都市生まれ。 京都市内の調理師学校を卒業後、京料理店へ就職。
ある日、テレビ番組でフランス料理店のシェフの料理に感銘を受け、フランス料理へ転身。
大阪市内のフランス料理店で研鑽を積み、パリ郊外で1年間 修業のため渡仏。
帰国後、大阪市内のフランス料理店で8年間、シェフを務める。
2007年 7月 お好み焼きを学ぶため、若竹学園修了。
2007年11月 大阪・四ツ橋 新町にて、鉄板焼き お好み焼きOribe 独立開業。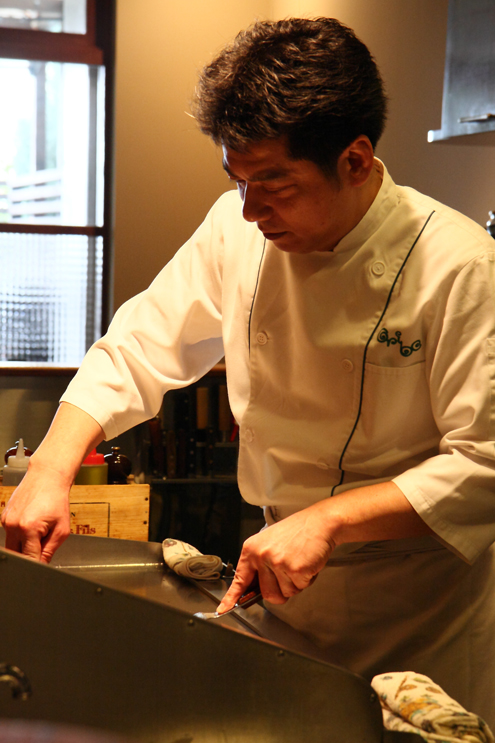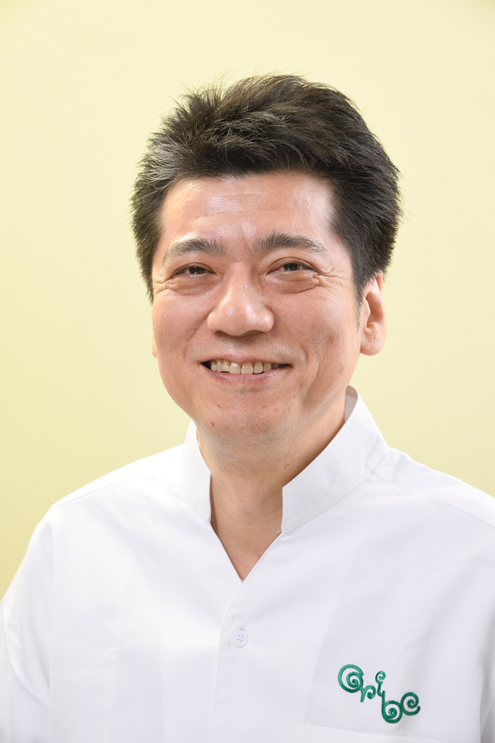 I was born in Kyoto in 1967. After cook school graduation in Kyoto, I found a job to Japanese(especially kyo-ryouri) restaurant. One day, I was impressed with the Japanese chef of the french restaurant by a TV program and decided to change my way from Japanese food to French food.
I had acquired study in a French restaurant in Osaka and visited France for study to give a skill more in the suburbs of Paris for one year.
After returning to Japan, I used to be as a chef in a French restaurant in Osaka for eight years.
It is completed to learn how to bake "Okonomiyaki" at school(Wakatake Gakuen) in July,2007.
And I have been opened my restaurant "Oribe" independence, offered grilling food on an iron plate, in Osaka(Yotsubashi),in November,2007.
【Received Prizes】
*The winner of the eighth annual Wine Australia Japan by the glass promotion, "REGIONAL HEROES 2010."
*Le guide MICHELIN KYOTO & OSAKA 2016,Bib Gourmand Teppanyaki.
*Le guide MICHELIN KYOTO & OSAKA 2017,Bib Gourmand Teppanyaki.
*Le guide MICHELIN KYOTO & OSAKA 2018,Bib Gourmand Teppanyaki.
*Le guide MICHELIN KYOTO & OSAKA 2019,Bib Gourmand Teppanyaki.
【Message】
Oribeの公式サイトをご覧いただき、誠にありがとうございます。
店名のOribeは茶道に使われるお茶碗等 "織部焼"が由来となっております。
"織部焼"の色調や質感、また、「オ・リ・べ」という3文字の音の響きが、
イメージに合い、名付けました。
料理については、私のこれまでの経験を生かして、カテゴリーに属することなく、フランス料理の調理法を基本に、フライパンを鉄板に置き換えて、表現しております。
通常、コース料理ではありませんが、冷たい料理から順番に温かい料理、メイン料理へ…とアラカルト中心でご自由にお選びいただきます。
そして締めにお好み焼きをぜひ、召し上がって下さい。
私一人で作って、ご提供させていただいております。
なのでご注文をいただいてからの調理作業を始めるため、ご提供までにお時間がかかってしまいます。
お飲み物と共にゆっくりと楽しいお時間をお一人様で、ご友人で、ご家族で…女子会やご接待、ご記念日、デート… あらゆるシーンでお気軽にお過ごしいただけたら…っと思います。
親しみのある心地良いサービスをモットーに、お客様の「おいしい!」と「笑顔」を日々追求し続けたい…と思っております。
それでは、店内でお目にかかれますように、みなさまのご来店をお待ち申し上げます。

Hello, everyone.
Thank you very much for visiting an official web site of Oribe.
About the name of shop, Oribe are derived from tool ceramic ORIBE ware
used for traditional tea ceremony.
A color and feel of a material of the ceramic ORIBE ware, the sounds of three characters in Japanese language called O-RI-BE(オ・リ・べ) is named it in accord with my image.
Usually it is not a course dish. Please freely choose my menu in turn, from cold dishes, next hot dishes, main dishes…, by a la carte like a course.
And finally, try to eat noted dish "OKONOMIYAKI " of OSAKA.
It takes long time because of an offer to begin cooking work alone after receiving your orders.
I expect what you spend relaxed and happy time with friends, partners, a family… in every scene while talking and taking a drink.
First of all comfortable service with friendly feeling of the customers if is delicious and a smile, want to continue investigating every day.
Then I wait for the visit of all of you to be able to see you at my Restaurant Oribe.
Owner & Chef Hirotaka Uzaki